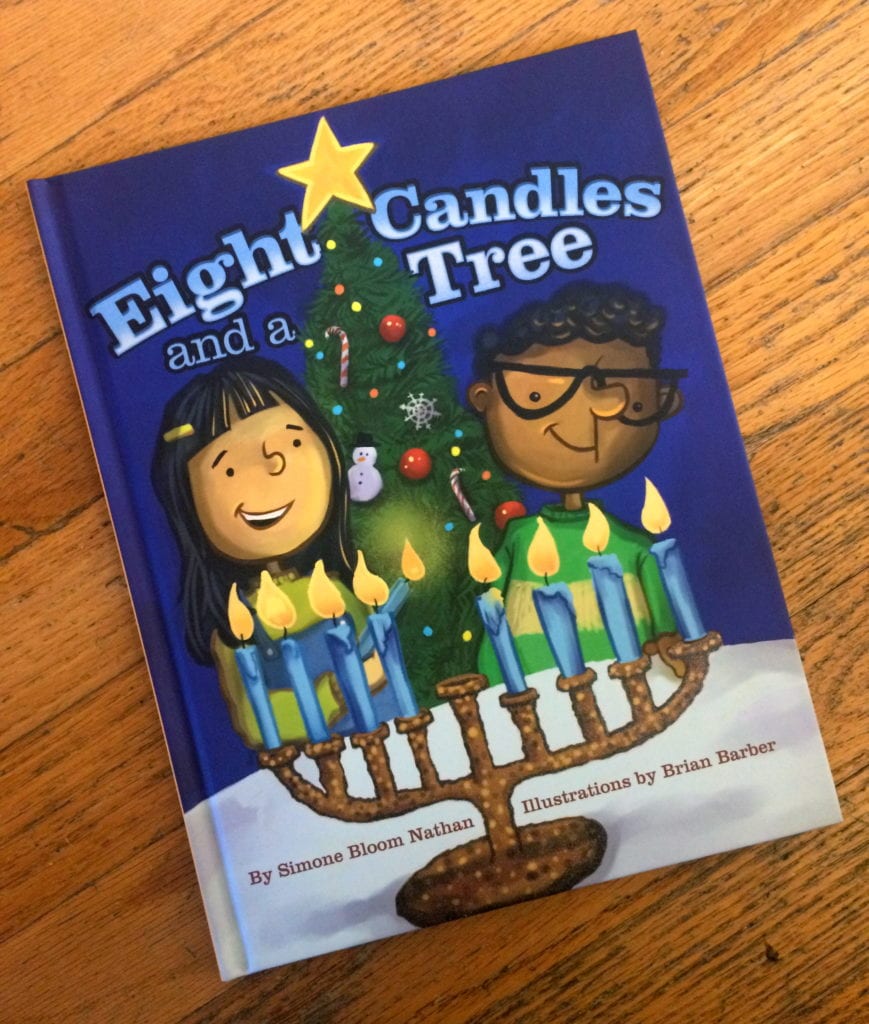 NOTE: All children benefit from deeper understanding of all religions represented in their family, neighborhood, school, and geographic area. So the list below includes books on many of the most common religions in the United States. Obviously, the world needs more books featuring interfaith families beyond Christian/Jewish families. And we need more children's books on indigenous religions, and religions of the African diaspora. To suggest additional books for this list, email info@susankatzmiller.com.
Featuring Interfaith Families (primarily Christian and Jewish)
December's Gift: An Interfaith Holiday Story, Ashley Smith-Santos and Stasie Bitton. Stasie Bitton, K–3. An interfaith child celebrates both Christmas and Hanukkah.
Eight Candles and a Tree, Simone Bloom Nathan. Beaver's Pond Press, 2014. PreK–2. An interfaith child celebrates both Christmas and Hanukkah.
Jalapeño Bagels, Natasha Wing. Atheneum, 1996. K–3. The story of a boy with a Mexican parent and an Ashkenazi Jewish parent, with Spanish and Yiddish.
Lola Levine is Not Mean!, Monica Brown and Angela Dominguez. Little, Brown, 2015. Grades 1–5. First in a series of chapter books featuring a girl with one Ashkenazi Jewish parent and one Peruvian-Catholic parent.
Nonna's Hanukkah Surprise, Karen Fisman. Kar-Ben, 2013. PreK–3. An interfaith child being raised Jewish celebrates Hanukkah with her Christian grandmother.
Queen of the Hanukkah Dosas, Pamela Ehrenberg. Farrar, Straus, and Giroux, 2017. Grades K–2. A family with an Indian mom (no mention of her religion) and Jewish dad celebrates Hanukkah with South Indian foods.
Buddhism
Kindness: A Treasury of Buddhist Wisdom for Children and Parents, Sarah Conover and Valerie Wahl. Skinner House, 2010. K and up. Stories from throughout the Buddhist world.
Buddha at Bedtime: Tales of Love and Wisdom for You to Read with Your Child to Enchant, Enlighten, and Inspire, Dharmachari Nagaraja, Duncan Baird, 2008. PreK-3. One in a series with modern retellings of Buddhist tales.
See a list of books and other resources for children on Buddhism, written or illustrated by women, on the Faith Seeker Kids blog here.
Christianity
Children of God Storybook Bible, Desmond Tutu. Zondervan: 2010. Archbishop Tutu retells more than fifty of his most beloved Bible stories, highlighting love, peace, and forgiveness. Grades PreK–3.
Images of God for Young Children, Marie-Helene Delval. Eerdmans: 2010. Explains the concept of God using both traditional Christian imagery (God as a shepherd, healer, or parent) and more abstract images (God as silence or joy or in our tears). Grades K–4.
Meet Jesus: The Life and Lessons of a Beloved Teacher, Lynn Tuttle Gunney. Skinner House, 2007. Beautiful illustrations and a simple text follow the life of Jesus. Grades PreK–3.
The Mystic Bible, Alexandra Sangster. Sophia Books: 2012. Follows Jesus from birth through to the Pentecost experience, exploring the stories from a contemporary perspective. Vivid illustrations; uses inclusive language and images. All ages.
Stories Jesus Told, Nick Butterworth. Multnomah: 1994. Retells eight parables from the Christian bible. Grades PreK–2.
God (Many Religions)
Because Nothing Looks Like God, Lawrence and Karen Kusher, Jewish Lights, 2000. PreK-3. For children curious about the concept of God (non-denominational but Jewish/Christian basis). 
Sleep in Peace, Ingrid Hess, Herald Press, 2007. Ages 8-12 years. Depicts diverse children from many cultures around the world in bedtime rituals, with God watching over all of them.  
Hinduism
Amma, Tell Me About Diwali!, Bhakti Mathur. Anjana, 2011. PreK–3. One in a series on various aspects of Hinduism.
The Little Book of Hindu Deities: From the Goddess of Wealth to the Sacred Cow, Sanjay Patel. Plume, 2006. PreK and up. Lively cartoon images and child-friendly stories.
Ramayana: Divine Loophole, Sanjay Patel. Chronicle, 2010. K and up. Based on the classic Hindu text, with rich contemporary illustrations by a Pixar animator.
Ved and Friends Celebrate Dussehra and Diwali, Diksha Pal Narayan. Small Town Publishing, 2017. A group of friends from multiple South Asian religious traditions (Buddhism, Hinduism, Jainism, Sikhism) share their celebrations.
Books for children on Hinduism, by women authors or illustrators, on the Faith Seeker Kids blog here.
Bharat Babies Book Club, a subscription service for children's books with South Asian characters, featuring both Hindu and Muslim topics here.
Humanism
Children's books recommended by the educators at Humanist Learning Systems here.
Books for children and young adults, including books on death, recommended by Humanists UK here.
Islam
Ayat Jamilah: Beautiful Signs: A Treasury of Islamic Wisdom for Children and Parents, Sarah Conover and Freda Crane. Skinner House, 2010. K and up. Includes stories from cultures throughout the Muslim world.
It's Ramadan, Curious George, H.A.Rey and Hena Khan, HMH Books for Young Readers, 2016. A boardbook introducing the Muslim holiday, featuring the beloved monkey.
Lailah's Lunchbox: A Ramadan Story, Reem Faruqi. Tilbury House, 2015. Grades 1–7. A young Muslim girl wrestles with being a Muslim, and how to fast, while at school.
Night of the Moon: A Muslim Holiday Story, Hena Khan. Chronicle, 2008. PreK–3. A picture book on Ramadan and Eid. Also, see her new book Under My Hijab, 2019.
Under the Ramadan Moon, Sylvia Whitman. Albert Whitman and Company, 2008. PreK–2. A picture book on a contemporary family celebrating Ramadan.
Yo Soy Muslim: A Father's Letter to His Daughter, Mark Gonzalez. Simon and Schuster, 2017. PreK–3. A letter by a Muslim and Latino poet to his child.
A list of children's books on Islam featuring women authors and illustrators, on the Faith Seeker Kids blog here.
Noor Kids, a children's book service featuring books for children on Islam, here.
Judaism
All-of-a-Kind Family, Sydney Taylor. Yearling, 1984. Grades 3–7. First in a beloved series of chapter books about a Jewish family in New York at the beginning of the twentieth century.
Beni's Family Treasury: Stories for the Jewish Holidays, Jane Breskin Zalben. Henry Holt and Company, 1998. Grades K–3. One of a dozen books (five collected here) with animal families celebrating holidays, and life-cycle events. Out of print: worth seeking out.
Mrs. Katz and Tush, Patricia Polacco. Dragonfly, 1994. Grades K–3. One of several classics by Polacco about friends of different religions: in this case, an elderly Jewish immigrant and a young African American boy.
Sammy Spider's First Hanukkah, Sylvia Rouss. Kar-Ben, 1993. Grades K–2. First in a series of books on various Jewish holidays.
What Makes Someone a Jew? Lauren Seidman, Jewish Lights, 2007. PreK-1. A book showing the racial and cultural diversity of Jewish people.
Books on Judaism for children, written by women, on the Faith Seeker Kids blog here.
NOTE: Any child ages 6 months to 11 years (including children from interfaith families) being raised with Judaism can get a subscription for free monthly Jewish children's books from PJ Library. Go to https://pjlibrary.org/home.
Paganism
Aisha's Moonlit Walk, Anika Stafford. Skinner House, 2005. PreK–3. A family celebrates eight pagan holidays through the cycle of the year.B
Rupert's Tales: The Wheel of the Year, Beltane, Litha, Lammas, and Mabon, Kyrja, Schiffer, 2011. Grades K-3. First in a series with beautiful illustrations featuring a rabbit celebrating Pagan holidays.
Yoruba (African Diaspora)
The Adventures of Obi and Titi., O.T. Begho, Ages 7-10. A series of six chapter books set in ancient West Africa. Some cultural concepts relevant to many African diasporic traditions (santeria, vodun, candomble).
A is for Adire! Yoruba Cultural Dictionary Illustrated alphabet book, intended to help teach the Yoruba language and introduce cultural concepts.